F&S Developers is a company that was born in the context of the irregular recovery of the real estate market after the 2008-2010 crisis, whose gradual rebound was specifically focused on new construction, leaving room for a large and undervalued inventory of assets for resale.
Our first years we strategically focused in capitalizing on the inefficiencies of the "second-hand" market, through the purchase and repositioning of existing inventory, to create a competitive and comparable product (in quality and finishes) to the existing offer of new apartments and houses in residential areas with the highest demand in Miami.
Over the years  we have become a company specialized in the final product, understanding the potential and limitations of each house or apartment, what we have called the valuable "art of choosing".
Little by little we found our own stamp and identity in a highly competitive market, always seeking to strike a balance between the success of financial operations and the immense passion we have for doing things better than the average, with greater attention to details, with a higher level and with the added value that comes from being on top of the product in all stages of the business.
After several years in the field, with much effort and dedication we have managed to build our own personality and identity. We have learned from good and bad experiences, and with passion, humility, daring and conviction we continue to explore and learn every day.
At FS we constantly seek to raise the standard of our products, through good and rigorous execution, placing special emphasis on details and typologies. Our mission is to improve the buildings and neighborhoods in which our products are inserted, seeking to improve the environment and the quality of life of those who inhabit them
Chairman, Development Director.
Interior designer with more than 35 years of experience in real estate
Over the last 10 years he has been strongly involved in the Chilean business scene as the owner and creator of Casa Higueras – Boutique + Design Hotel in Valparaíso, Chile (www.hotelcasahigueras.cl)
Gonzalo has established the company's general policies and guidelines in terms of investment, financial structure and commercial relations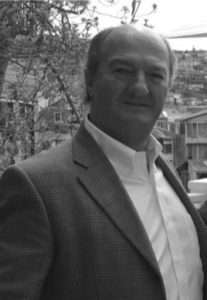 Architect with more than 15 years of experience in real estate.
Previously he worked as Project Manager at Inmobiliaria La Reserva (Chile), then as Development Director at Inmobilaria Aconcagua (one of the largest real estate companies in Chile), and finally as Project Manager/Partner at Camper Arquitectura y Gestión
Sebastián has been responsible for the management, design, coordination, and development of the company's projects